From Rebecca:
My younger brother Bill died on April 22, 2001. When he died, he left his 6 brothers, 4 sisters and his 4 children behind. He was a very laid-back and funny guy and we all miss him terribly. At the funeral I was so afraid to go and see him laying there physically dead. I just wanted to remember him forever just as he was in life. He was always smiling and telling silly jokes, loved to play guitar and sing Karaoke, loved his children and I don't think he had one enemy in the world.
My family was coaxing me to go and say my last goodbye to him but I was so upset and reticent that I never even went into the viewing room at all on the first day of the viewing. I mostly just stayed in the outer greeting room of the funeral parlor and cried.
Very late on the second day, it had already grown dark and I still was unable to find the courage to go into the viewing room see him dead. I went outside the funeral home and sat on a wooden bench to just cry and have a cigarette. After a half hour or so, one of my brothers in a gray suit came up to me, lit my cigarette, his cigarette and said "you really need to go and say goodbye to Bill." I struggled within for a very long while and with his urging it finally gave me the courage to go and see Bill in his coffin.
With tears running down my face, I sang the song 'Summertime' from Porgy and Bess, a song by Rogers and Hammerstein, to Bill in his coffin and cried some more. I used to sing that to him to help him drift off to sleep when we were kids.
Later that evening when I went to thank my brother for the encouragement... I could not remember which brother it was. When I asked who had lit my cigarette at the bench, all of my brothers looked funny at me and said… "Bench?" There was no bench there where I had been sitting. None of them would acknowledge that they were the one who sat with me (plus none of them smoked). None of them were wearing a gray suit either.
No one was wearing a gray suit. The only one wearing a gray suit was... my brother Bill, who was in the coffin.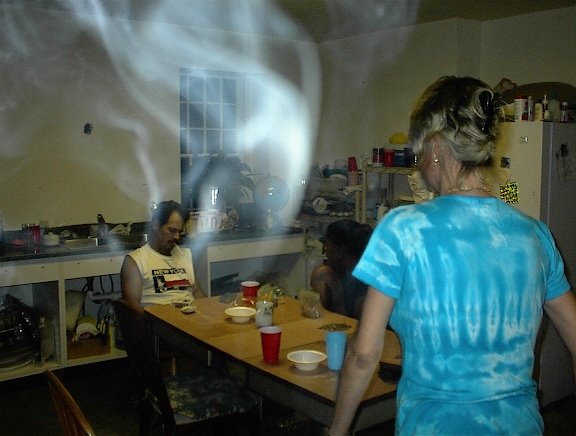 This photo of Bill was taken just hours before his passing on April 22, 2001.